By Hannah Schenker
Summer is well and truly here in New Zealand and we're enjoying far more warmth than the entire last summer, it seems! The evenings are lengthening, we're eating dinner outside at the picnic table, swimming in warm ocean and cool rivers, packing in lots of social activities in the build-up to Solstice, then Christmas, then the New Year. We've been looking forward to this all year and many of us will be heading away on summer adventures with our family. You probably already have your togs and towel sorted, so we've rounded up a few other essential items to make your summer more enjoyable (hint: it's mostly about your skin!).
Before You Go Anywhere…Prepare!
All this time you'll be spending in the sun, sand and sea will be enough to leave anyone's lips a bit parched. Before you rush off to buy the latest luscious lip balm down at the chemist, why not have a go at making some at home? That way you know exactly what is going into it and onto your lips, and the kids could have a go too. The gift that keeps on giving, this DIY Organic Lip Balm Kit comes complete with everything you need to make 10 lip balm pots, including labels. You'll receive a fabulous secret lip balm recipe (totally organic of course!) and calendula seeds so you can grow your own for the next batch – an easy plant to grow and a great opportunity to introduce your kids to growing a plant from seed (you don't even need a garden for this – grow it in a pot!). Self-sufficiency at its best. www.plantandshare.co.nz
Buzz Off, Bugs!
Our kids love to play, explore and adventure outdoors and that's what we love to encourage, right? But the truth is, there are tiny little creatures out there that bite, itch and sting – that's just part of being outdoors in nature. There are two options for you here: prevention and soothing. Goodbye SANDFLY is a 100% natural and NATRUE-certified bug repellent and bite soother, and has all the right ingredients for helping you and your kids enjoy the outdoors, chemical-free. Get Sandfly Savvy, so you can have more fun than the sandflies do! Even so, for any bites, bumps and bruises that do inevitably happen, you can now come to the rescue with Goodbye OUCH Manuka Balm. Goodbye OUCH Manuka Balm is a good friend in any outdoor situation where little accidents pop up like stings, cuts and grazes for adventurous kids. www.goodbyesandfly.co.nz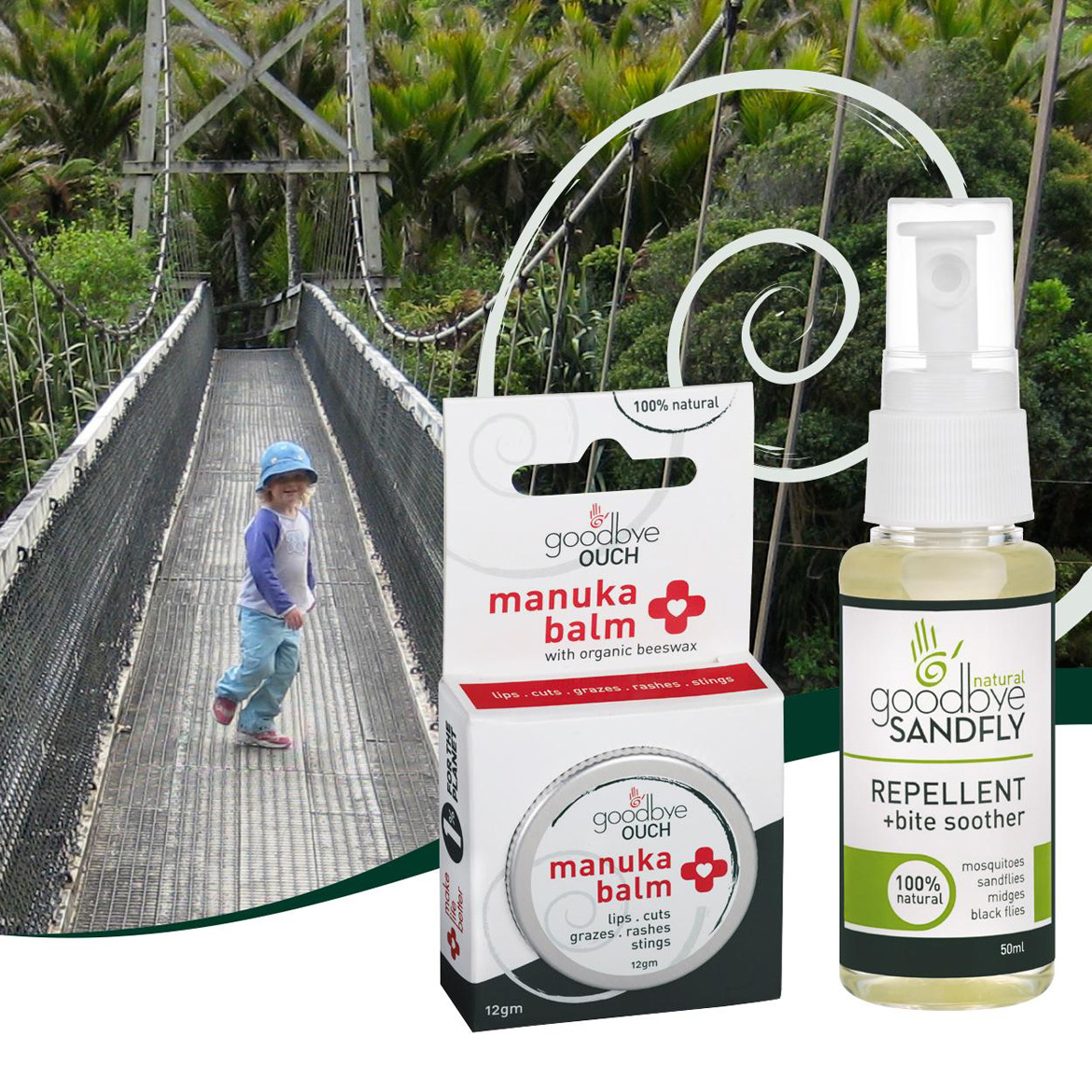 Getting out and about
We are notorious down here in the Antipodes for loving the outdoors. Having a baby is really no reason to stop with your relentless love of being out in nature – all you need is a really good baby carrier.  It can sometimes be difficult to find the right one for you – we'd recommend checking out a local Babywearing Group where you can try a few different styles. But today we'd love to introduce you to an Australian baby carrier business called Dragonfly Children's Boutique. The Dragonfly carrier designs are tested to meet the internationally recognised American safety standards (there are currently no set standards in New Zealand and Australia). The unique crossed strap design is all about alleviating some of the stress that a conventional backpack- style carrier places on the shoulders, and in turn the spine. By spreading the load over the back and not pulling the shoulders it allows for a more comfortable carry for longer – so you can climb those mountains, mamas and papas! The Dragonfly carrier also has a wide, hip-friendly seat so your baby's legs do not hang awkwardly and place strain on the hip joints. Best of all, you can custom design the carrier to your liking – full or half buckle, Mei Tai, Ring Tai, for different body sizes, hood, ears, embroidery…you name it! www.dragonflychildrensboutique.com.au