By Hannah Schenker
Here in New Zealand, summer is a time many of us pine for the rest of the year. We think fondly of finding pipis at the beach with the kids, BBQs with friends and family, hot, hazy evenings with the windows open, jandals slapping on the grass, Hokey Pokey icecream from the dairy, the ruby blooms of the pohutukawa, and of course endless swims in rivers and ocean and lakes. Nature features highly in our New Zealand summers – blazing sun, cool water, kai moana – and nature also features highly in Summer Days: Stories and Poems Celebrating the Kiwi Summer, by some of New Zealand's finest writer's and illustrators.
Summer Days is a hardback collection of seven stories and ten poems by much-loved New Zealand writers, including Margaret Mahy, Joy Cowley, Gavin Bishop, Pamela Allen, Gwenda Turner, Fiona Farrell, Elena de Roo, Melanie Drewery, Sandra Morris, Sue Wootton, Brian Turner, Jenny Cooper, Vasanti Unka and David Elliot.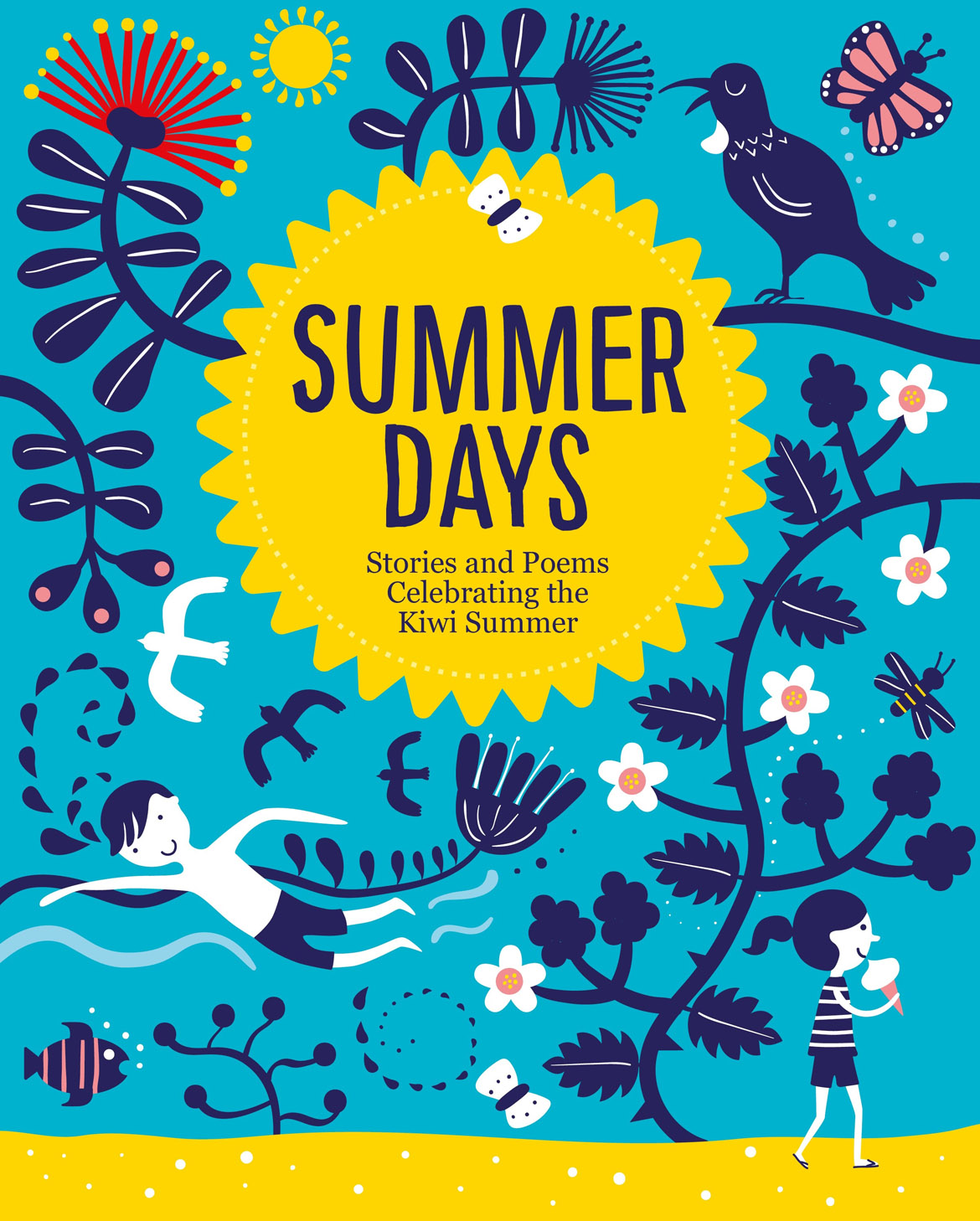 The pages are full of colour, beautifully illustrated by some of our best illustrators and evoking memories of summers spent with our families. You can almost feel the sun on your skin and the sand between your toes as you move through the yellow-tipped pages. This is definitely a book to return to again and again, finding your favourite stories and illustrations and marking them with the ribbon bookmark.
Essentially this is several picture books in one – so would be a perfect Christmas gift for your favourite little person who loves to get lost in stories. Big people will also love these stories – so connected they are to our own Kiwi upbringing.
A favourite of mine is The Pipi and the Mussels, written by Dot Meharry and illustrated by Jenny Cooper, in which a tale is spun that reveals just why it is that pipis hide beneath the sand and mussels cling to the rocks.
Cowshed Christmas, written by Joy Cowley and illustrated by Gavin Bishop, is a familiar story for many and fantastic for reading aloud with the kids – they will eagerly help with all the animal noises!
Reading Summer Days: Stories and Poems Celebrating the Kiwi Summer will have you reaching for the buckets and spades and setting off for the beach. With too many wonderful stories and poems to mention and all the familiar imagery in the illustrations, just know that you will get endless pleasure from this one book, so be sure to add it to someone's pile under the Christmas tree this year, even if it's just your own.
---
To buy a copy for your family, visit your local book seller.