By Hannah Schenker
Planning to birth in a hospital or birth centre? Have you already planned the bag you will bring along with you? What to pack! What on earth will you need? When it starts getting close to your due month you might not feel at all inclined to shop around for the items that you need. Which is why a well thought out, pre-made hospital bag like the ones from Mummy Baby are absolutely ideal. Everything you need in one ready-to-go bag, safe in the knowledge that everything inside will be useful and healthy for both you and your baby.
Exactly when baby decides to be born is really up to them, so it's best to be prepared with everything you need by about 37 weeks. We thought we'd take a look inside a couple of the Mummy Baby packs, so you can have a peek at just how life-saving all the items will be. They have packs for mummy, packs for baby, and even packs for the breastfeeding mum as well. They would also make a thoughtful baby shower gift, for your fave mama-in-the-making.
---
QT Mummy Hospital Pack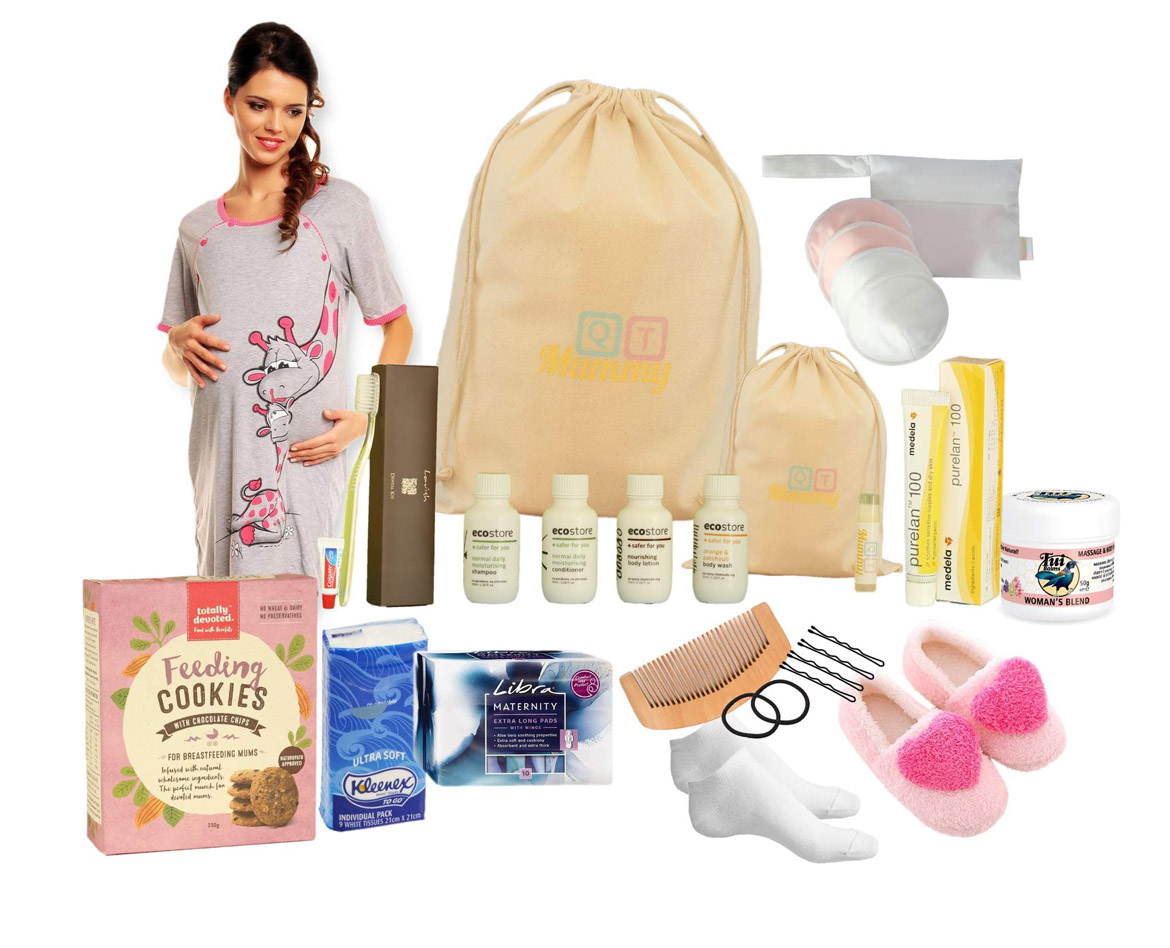 The ultimate pack for new mums, you will find a range of essential items in the QT Mummy Hospital Pack. They've got you covered, from what you will wear, through to what you can eat. You'll find nipple cream, contoured breast pads, and massage balm to soothe your sore bits. Plus a well-stocked toiletries bag so you can freshen up at some point using products you love.
---
QT Baby hospital pack
The QT Baby Hospital Pack contains all the must-haves for your wee babe. Featuring Mummy Baby's own QT Baby gear – sleep suits, bodysuits, hats, booties and mittens. The QT Baby clothing is of very high standard. They use 100% soft cotton – super gentle against baby's sensitive skin. You'll also find a wrap, blanket and other useful items in the QT baby pack.
See next page for the Breastfeeding Starter Pack…