After becoming a mum for the first time, Cara Cristini found that the swimwear she once wore so easily wasn't quite working anymore, and the physical changes to her body made finding suitable swimwear even more challenging. This led her to embark on an extensive and dedicated journey to refine and test countless prototypes and iterations to achieve the perfect sustainable swimsuit. Her vision was to create a versatile piece that not only celebrated a woman's shape, but would also be flexible enough to adapt to her needs, whether she would like more or less coverage. At B&B Swim, they have carefully developed a collection with just five sizes that seamlessly cover the inclusive size range of 8 – 26 AU. Their swimsuits are designed to perfectly complement your ever-evolving, natural shape. Here, Cara shares her story with The Natural Parent Magazine.
The passion: What inspired you to set up your business?
I was inspired to start B&B Swim due to my own personal experience as a first-time mum. Going through significant physical changes during that time, I realised the challenge of finding suitable swimwear. Being a devoted swimwear enthusiast with an extensive collection of bikinis prior to my pregnancy, I empathised with the challenges of not being able to flaunt those same swimsuits during pregnancy and postpartum.
This experience ignited a passion for creating swimwear that could adapt to women's evolving needs and celebrate their natural shapes.
I began my entrepreneurial journey while on maternity leave from my full-time design role. It was during this unique period of life that I had the time and space to fully dedicate myself to the development of B&B Swim. Maternity leave allowed me to combine my newfound responsibilities as a mother with my aspirations as a business owner. It was a time of transformation and adaptation, both in my personal life and in the creative process of building a brand that celebrates the beauty and changes that come with motherhood and womanhood.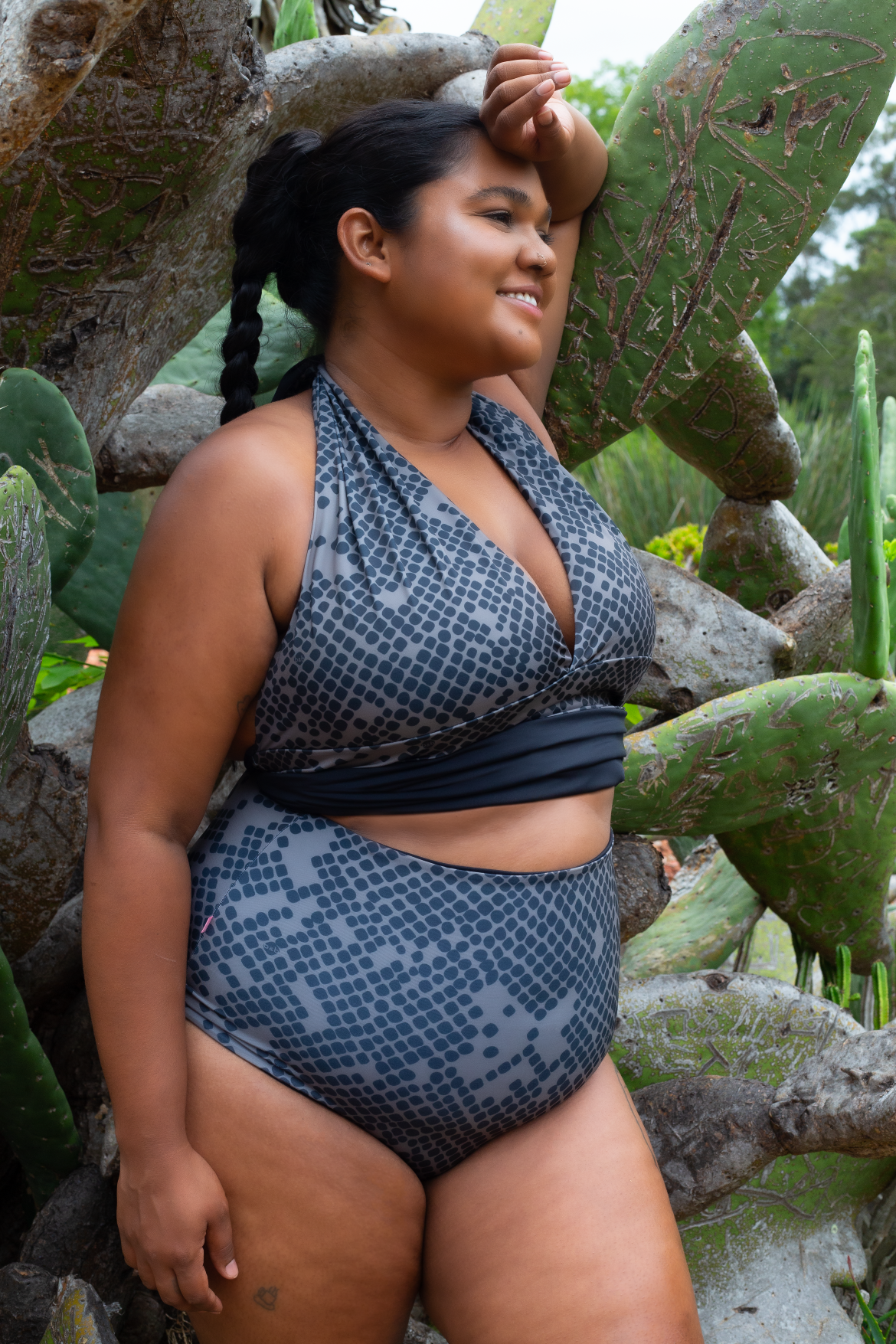 The launch: How did you start out in the beginning?
In the early days, I embarked on an exciting journey that stretched over nearly two years. It all began in my humble garage at home. During this time, my talented seamstress mother and I worked together with unwavering determination to meticulously create and assess numerous prototypes and iterations. Our goal was to bring to life the perfect sustainable swimsuit. This collaborative effort was defined by our endless dedication and a strong commitment to turn my vision into a real, eco-friendly product.
As we delved into this creative process, B&B Swim's brand pillars began to take shape: "Empowering, Sustainable, Adaptable, and Ever-evolving." These principles guided our mission every step of the way.
Once I was happy with the product, the testing phase began. We tested our entire size range on women of all different shapes, continually refining and tweaking the swimsuits to ensure they perfectly complemented every unique body.
Countless hours were spent collecting feedback and making refinements to achieve the ideal fit and style. It was essential that our swimwear not only looked good but also made women feel confident and empowered, regardless of their body type or stage in life.
With the product refined and ready for production, the next step was finding a manufacturing partner who shared our commitment to quality and sustainability. This search was meticulous, involving extensive research and negotiations to align with a partner who could bring my vision to life while upholding ethical and eco-conscious practices. It was a crucial phase in ensuring that our swimwear would not only meet but exceed our high standards and environmental goals.
Through this journey, we transformed a personal passion into a brand with a strong purpose. Our swimwear not only celebrates women's natural shapes but also empowers them with sustainable, adaptable, and ever-evolving fashion choices.
The innovation: What was the biggest breakthrough for you with your business?
One of the most significant breakthroughs for B&B Swim was the creation of a remarkably versatile collection, offering over 15 different ways to wear our swimsuits. This innovation truly sets our brand apart.
But our journey of innovation didn't stop there. We also achieved a major milestone by developing an adaptive collection that caters to a wide range of sizes. This inclusive approach, along with the capacity to adapt to women's varying preferences for coverage, represents a pivotal advancement for the brand.
Adding to the list of achievements, we were honoured to win the prestigious "Best in Swimwear" award recently at the She-com E-commerce Awards. This recognition further fuels my passion for empowering women and encouraging them to embrace their uniqueness both in and out of the water.
Yin and Yang: How do you balance work and family?
I can wholeheartedly relate to the challenge of striking a balance between work and family, especially as a mother. Currently, I'm still working full time in addition to being a mother and a business owner. Juggling the roles of a mother, partner, and a full-time business owner can be incredibly demanding, and at times, it leaves me feeling stretched thin. The challenge of finding that equilibrium is very real, and it's a journey I'm still navigating. I often find myself pushing my limits, and, honestly, I have experienced periods of burnout, but I wouldn't change it for the world.
See next page for more…