Silverbeet & Feta Tart
This tart is a perfect warm meal as the nights turn cold, or it can be cooled and eaten the next day. You can cheat with this recipe and use prepared pastry, however, look for good quality pastry made from butter rather than vegetable fats, as these will contain unhealthy trans fats (see box).
Preparation Time 30 minutes
Cooking Time 30 minutes
Serves 4
Pastry
2 cups flour – can be a mix of white and wholemeal
1 tsp fresh thyme, chopped; or 1/2 tsp dried thyme
1/2 teaspoon salt
100g cold butter, cubed
1 egg
Cold milk if needed
Put the flour, herbs and salt in a food processor and add the cubed butter and pulse to create a breadcrumb-like consistency. With the engine going add the egg and a little cold milk if needed until the pastry comes together. Tip onto the bench and shape into a disk. Wrap and chill for 30 minutes. Roll between two sheets of greaseproof paper until 5mm thickness and line a shallow 25cm round tart dish or a similar sized heat-proof dish.
Filling
1 onion, sliced thinly (optional)
olive oil
4 stalks silver beet, washed and chopped
100g feta, crumbled
1 cup sour cream
2 free-range eggs
Handful of parmesan
Salt & pepper to season
Method
Saute the onion in a little olive oil until soft. Add the silver beet and sauté until wilted. Set aside to cool.
Spread the onion and silver beet mixture in the base of the tart case and sprinkle with crumbled feta. Combine the sour cream, eggs, parmesan and salt and pepper, and pour over the silver beet.
Bake at 180°C for 25-30 minutes until the custard is set. It will still be a bit wobbly but will set as it cools. Serve with herb pesto or feijoa and apple chutney on the side.
Trans Fatty Acids
Trans fatty acids (TFA) are found in hydrogenated (solidified) vegetable oils. Hydrogenated fats have a long shelf life so are often used in packaged foods including processed meats particularly salami, deep-fried foods, commercial cookies, cakes, crackers and pastry, and some spreads and peanut butter.
TFAs can interfere with cell membrane function blocking essential fatty acids and oxygen from reaching our cells, which in turn can slow metabolism, affect brain function and compromise immunity. TFAs have also been found to raise LDL (bad) cholesterol and lower HDL (good) cholesterol so doubly harmful in this regard. Unfortunately, in New Zealand it is not required by law to include TFA amounts on packaging so it can be difficult to avoid them completely in the diet. Reading labels for hydrogenated or partially hydrogenated fat in the ingredient list is an option, however, it can be simply stated as vegetable fat.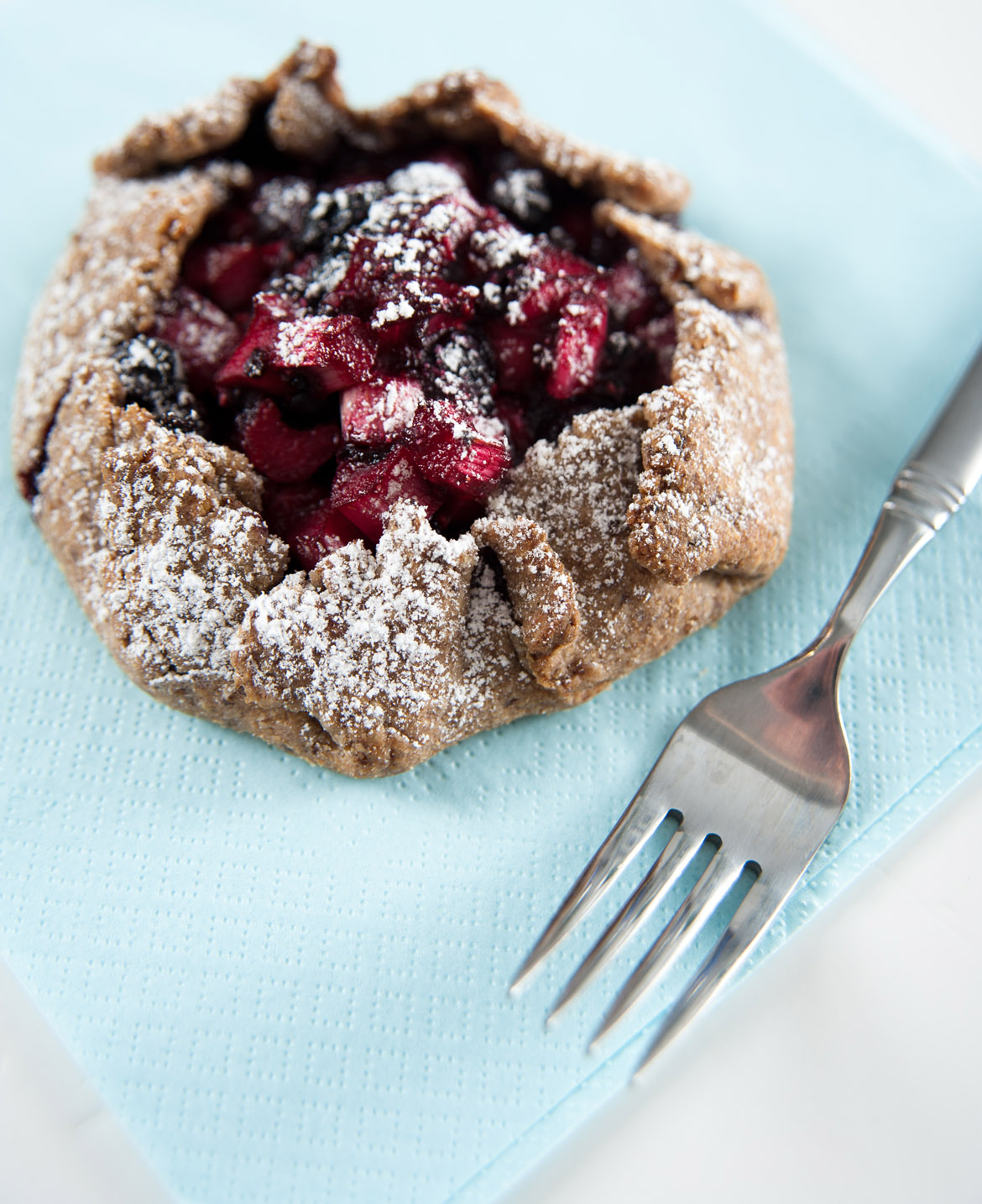 Free-form Fruit Pie
This is a quick and easy version of fruit pie perfect for making with autumn fruit such is pears, feijoas and apples. It really is simple, give it a go!
Preparation time: 30 minutes plus 30 minutes resting time for pastry
Cooking time: 30-40 minutes
Serves 6
Ingredients
2 cups white flour
2 tablespoons sugar plus extra for sprinkling
Pinch of salt
100g cold butter, cubed
Lemon zest
1 free-range egg
cold milk if needed
Approx. 2 – 3 cups autumn fruit
Handful of semolina or cornmeal for sprinkling
Method
Preheat oven 180C
Place the flour, sugar and salt in a food processor and pulse to combine. Add the cubed butter and process until a breadcrumb-like texture. Add the lemon zest and egg and pulse adding a little cold milk if needed to bring the pastry together. Tip onto the bench and quickly shape into a disc. Wrap in a plastic bag and refrigerate for 30 minutes.
Meanwhile prepare the fruit by cutting into similar sized slices and toss in a little sugar.
Roll out the pastry between two pieces of greaseproof baking paper to make a large circle about 5mm thick. Remove the top layer of paper and sprinkle the middle of the circle with semolina or corn meal – this will soak up the fruit juices as the pie cooks. Pile on the fruit and gather up the edges of the pastry gently folding together to create a free-form base. It should hold in the fruit while still leaving some fruit visible at the top. Sprinkle with a little sugar and slide the pie (still on the baking paper) onto a baking tray. Bake for 30-40 minutes until the pastry is golden and the fruit is tender. Serve warm with natural yogurt or vanilla ice-cream.
---
This article originally appeared in Issue #2 of The Natural Parent Magazine.