By Rebecca Wilson
Waiting for Later, a children's story by New Zealand Author Tina Matthews is a simple and delicately woven tale. It's a beautifully illustrated and crafted story that contains wisdom for children and adults.

Apparently being bored will make our children become creative geniuses, or at the very least independently motivated (yes please!). In the story, Nancy is seeking someone to play with or entertain her, she is asking for simple things – a story, to be rocked, to play a game. Nancy's family are all engaged in their own makings and doings and say, "Not Now, Later."
This story reminds us that waiting is OK – and that what happens for children while they wait is important and significant.
I'm sure I'm not alone in seeing a large amount of articles and memes reminding us that it's OK, good, and even preferable for our children to become bored. (This is a nice one!)
Not only that – it's a developmental achievement. Go you!
Possibly I'm just speaking for myself when I say that the 'I'm bored' litany is most often delivered in a tone that can flick a crazy switch in your (ah.. my) brain. And here's where we could fill up their 'love tank'. Or if you're like me, you can offer them many household jobs to do.
Don't get me wrong, it's both vital and wonderful to read to, play and spend time with your children. It's a part of daily life for most families. And there are also times when family members are occupied with their own tasks of daily living, creating, working (or napping) and here we are offered the idea that it's alright to stay with those tasks.
This book beautifully illustrates what children can get up to when they are told, "not now" or "later." They move on from asking for entertainment to begin to actively think about what they can do.
In the story, when Nancy is thwarted she goes to climb a tree instead. Here is where I love the story even more. It demonstrates the range of sensory and creative feedback something as simple as climbing a tree can provide for children.
The tree rocks Nancy, she spies tiny creatures, the tree swings her, the leaves tickle her, the moon tells its story.
If we want tuck in a little deeper to what Nancy is seeking out in the story, we could say she was looking for activities, – rocking, swinging, etc, to help her activate her proprioceptive and vestibular senses.
In the story (and in real life) time in nature – particularly tree climbing can help with that. Gripping, balancing, supporting oneself, pulling, bending, using our coordination, listening, using our eyes and swinging are all activities children seek out to help regulate and manage their bodies. As you follow the illustrations through, it's lovely to see Nancy gradually losing her shoes and socks so that she is barefoot and making the most of the pressors on the soles of her feet. These provide information used to calculate weight and posture to the vestibular areas of the brain which, among other things, helps with balance.
Nancy's time in the tree provided her with not only sensory feedback but also time. Time to herself, time to enact ideas, time for inner quiet, space to try out new things, time for creativity, opportunities to discover and observe what she might not normally see.
It's no surprise that Nancy comes away from her time in the tree with a new sense of herself. "I know I'm small, but tonight I feel big."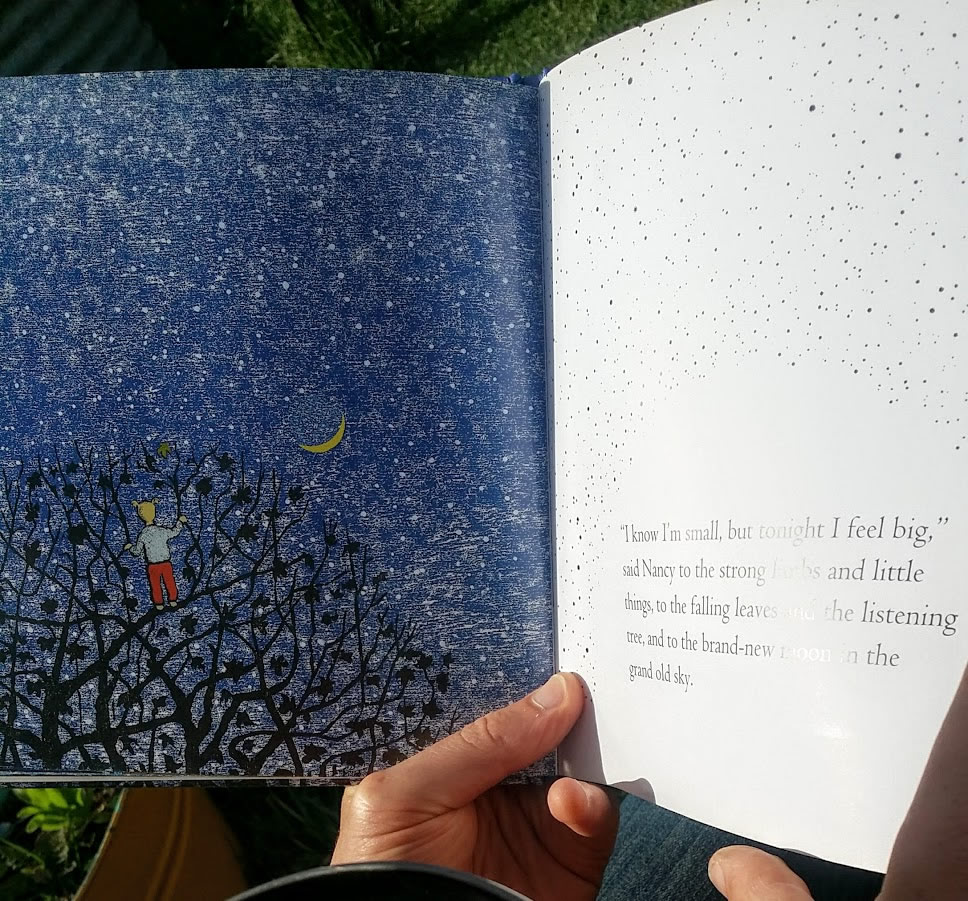 And it's no wonder that Waiting for Later was shortlisted for the QLD Premier's Literary Awards, The NZ Post Children's Book Awards and LIANZA's Russell Clark Award for illustration.
It's a carefully written and stunningly illustrated book and a good one for the bookshelf as well as the parenting toolbox. The gentle offering of allowing "not now, later" to be a positive contributor to child development is a lovely gift from this author to us.
Got the book already? Looking forward to reading it? Follow along with Tina Matthews as she reads her story! 
---
Review originally published at The Fox Guild. 
Bec Wilson is a mother of four, gardener, felter and creator of The Fox Guild. The Fox Guild is a project that has, at it's heart, a deep love of the nature, simplicity and community connection. It offers invitations for children and families to connect with the Natural world, such as Nature Play, bush walks, picnics & workshops. You can follow The Fox Guild on Facebook, Twitter or Instagram.