For as long as she can remember, creativity and curiosity have been the driving forces behind everything Stine Richardt does. As a mother, she also understands the deep responsibility we have to provide a safe and nurturing environment for our precious little ones. On a mission to create a childhood filled with love, joy, curiosity and lasting memories, she founded ChaBil, a gorgeous range of unique and vibrant teethers. Beyond her dedication to creating beautiful things, she is driven by a strong passion for the environment and sustainability, prioritising the use of eco-friendly materials and sustainable practices to ensure that their teethers not only bring joy and safety to children, but also contribute to the wellbeing of our planet. Here Stine talks to The Natural Parent Magazine about the passion behind her business, the challenges she has overcome, and her hopes and dreams for the future.
The passion: What inspired you to set up your business?
The seeds of our business were sown during a transformative period in my life, when my son was just a few months old. I was inspired by the Danish Royal Copenhagen statues of star signs, which gave me an idea-an idea that would eventually lead to the creation of our unique line of teethers. At that time, my husband and I had recently embarked on a new venture, opening a restaurant in the city of Copenhagen, where we were living at the time. Balancing the demands of a growing business with the joys and challenges of caring for our newborn son, the concept of our teethers quietly germinated in my mind.
Over the next six years, the idea remained a constant presence, growing and evolving as I shared my thoughts with women and fellow mothers. Their enthusiasm and encouragement fuelled my passion for bringing this concept to life. Yet, it wasn't until the unexpected arrival of the global pandemic and the subsequent lockdown that I found myself at a pivotal moment. Filled with a newfound sense of excitement and a yearning for change, I took this opportunity to dive deep into research and product development.
The challenges posed by the pandemic provided me with the space and time to fully commit to bringing my vision to fruition. I delved into the intricate world of teether design, exploring materials, safety standards, and aesthetics.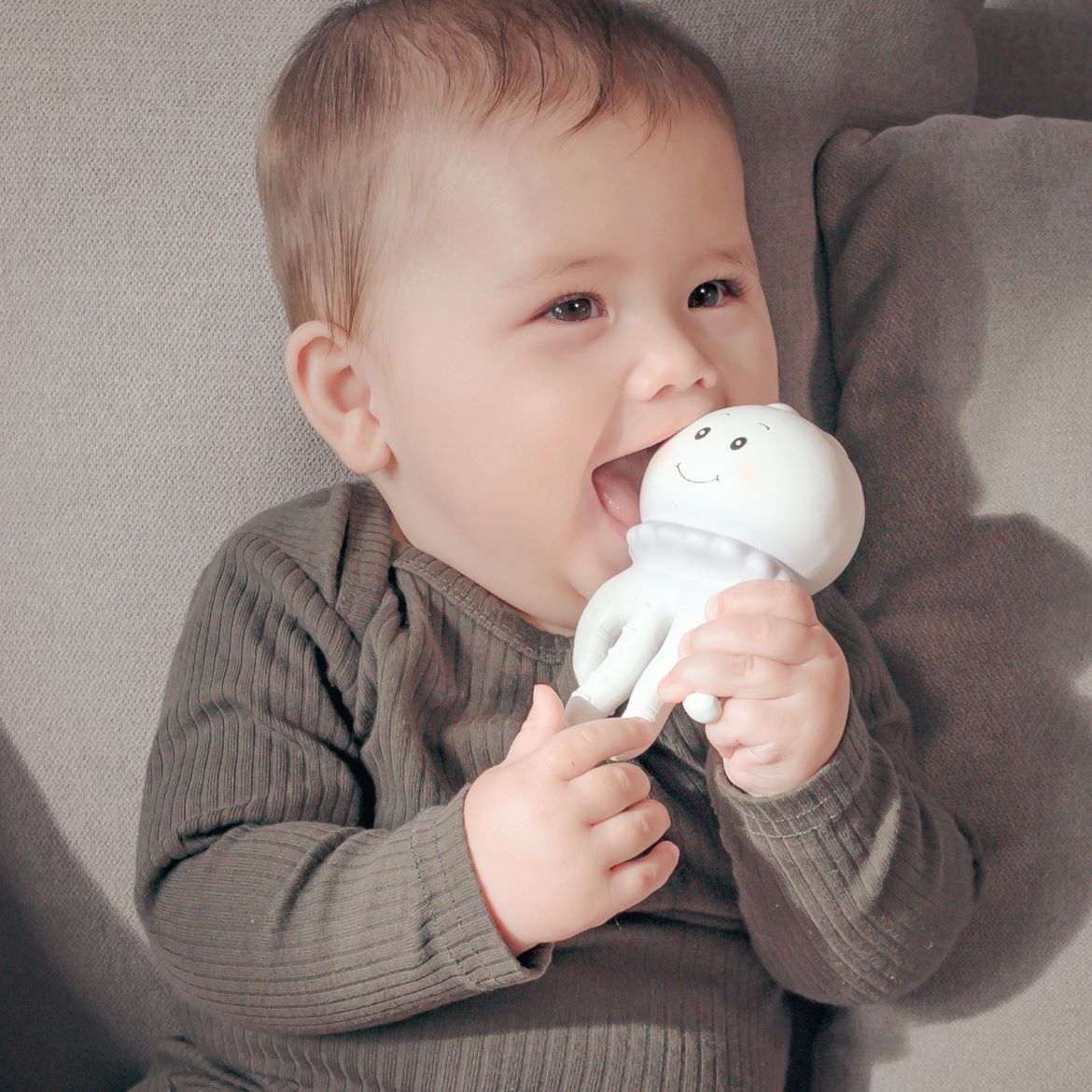 The launch: How did you start out in the beginning?
The inception of our venture took root in Denmark, and once I was determined to start the journey, my first crucial step was finding an illustrator who could bring the vivid images in my mind to life. After a few attempts, I finally discovered a talented artist who could create the endearing characters that would become the heart of our brand.
With the illustrations in hand, our next milestone was the creation of prototypes. It was essential to ensure that each design met our high standards and provided the utmost safety and functionality. A very important part of designing our teethers was the consideration for the environment and making sure that we were using sustainable and organic materials that not were not only safe for our babies, but also kind to our planet! Once the prototypes were approved, we eagerly moved forward into the production phase, ready to bring our vision to life.
Coinciding with these pivotal moments, our personal lives led us on a new adventure: my husband, our two children, and I relocated from Denmark to New Zealand, where we now live in Tauranga and are currently awaiting the arrival of our first production shipment.
The journey from concept to reality has been anything but easy. Along the way, we encountered unforeseen challenges, pushing us to our limits. However, every obstacle has been an opportunity for growth and learning, propelling us forward on this path of creation and entrepreneurship.
Now, as we stand on the precipice of introducing our exquisite range of teethers to the public, we are incredibly excited. We eagerly anticipate how our teethers will be received by parents and children alike. It is a thrilling phase, as the culmination of countless hours of hard work, dedication, and unwavering belief is about to be unveiled.
The innovation: What was the biggest breakthrough for you with your business?
Though we have just launched our business, every step along the way has been filled with significant breakthroughs and remarkable moments. Each milestone, carefully monitored and refined, has been meticulously crafted to bring us closer to our vision. The journey of creating our unique characters, from the first pencil lines, to their initial creation in clay, and finally to their transformation into organic rubber – they all felt like a series of breakthroughs. Witnessing their vibrant colours come to life through hand-painting further solidified the incredible progress we have made.
Beyond the characters themselves, each aspect of our product has been carefully considered. From selecting materials that are not only suitable for our teethers but also mindful of the environment, to the gorgeous Scandinavian-style illustrations adorning our beautiful packaging, every decision has brought us closer to our goal.
Reflecting on our journey, every step has brought forth significant breakthroughs for our business. With each change we encountered along the way, we embraced new challenges and overcame them with resilience. As a brand-new venture, our current launch is just the beginning, and we eagerly anticipate our most remarkable breakthroughs still to come.
Yin and Yang: How do you balance work and family?
Finding balance between work and family is an ongoing pursuit, and for me, my family always takes precedence. Fortunately, we have been blessed in many ways, particularly because we have established a lifestyle where my husband takes on work responsibilities while I manage the home front. This arrangement has afforded me the opportunity to focus on developing my small business. In my journey of balancing work and family, the help and support from my husband have been nothing short of invaluable. I recognise that I wouldn't have been able to achieve what I have without him by my side. His support has created an environment that allows me to focus on growing my business with confidence and determination.
Being an early riser, I often wake up two to three hours before the rest of the family. It is during this quiet time that I find myself most productive and efficient. This dedicated window allows me to prioritise work without encroaching on valuable moments with my loved ones.
See next page for more…