With their incredibly delicate skin, it's so important to consider the clothing you choose for your babies and young children. For On Bonn founder Khara, she was concerned about the bulky tags sewn into the seams of the onesies she bought for her son, along with the rough stitching against his sensitive skin. This planted the seed for her innovative update on the onesie, which is designed and created with the baby in mind, with soft seams and free of labels. Now a team of two, Amy and Khara connected over their shared loved of smart design, natural health, and ethical products. The On Bonn babywear range is built on the knowledge that comfortable kids are happier, calmer, and sleep better. All of their garments are made in New Zealand with beautiful ZQ merino wool. Here they share their journey so far with The Natural Parent Magazine.
The passion: What inspired you to set up your business?
On Bonn is currently a two-woman band, but its roots began with Khara, five days after the birth of her first child.
Five days after my son was born, he was on the change table, and so teeny, tiny. He was quite pink, having slight eczema, but just like all babies, he was just so incredibly sensitive and vulnerable. I began dressing him in a beautiful looking merino onesie, when I was struck by the three bulky tags sewn into the seams, that when cut out were incredibly sharp. To fully remove them, I would need to cut a hole in the onesie. Looking further, I turned the garment inside out, revealing an enormous amount of rough overlocked stitching, which felt very scratchy to the touch. I began to question the conventional design of baby's garments, and how they were constructed for the parent's aesthetic and not from the baby's perspective. An idea was seeded that day for super soft, second skin babywear that was designed with the wearer in mind. That was my first thought of the Twozee, an innovative update on the onesie, which, as we all know, is a staple of every newborn's first clothes.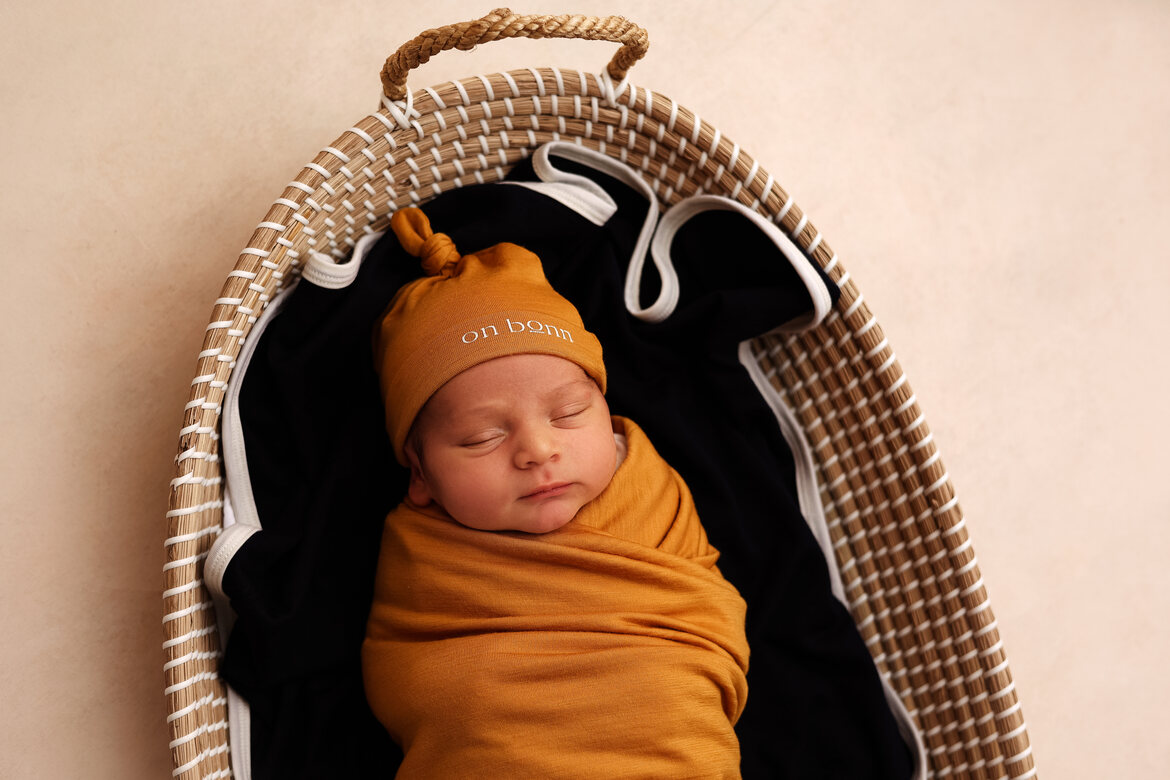 The launch: How did you start out in the beginning?
The first year of R&D was a bit of a rollercoaster. There were highs after developing the initial design in a "tech pack" to the lows of not finding a patternmaker or manufacturer comfortable with the design and construction of what we were trying to achieve. The lockdown of 2021 threw our timelines out the window, as it did for so many businesses, but that forced pause gave us a great moment of reflection, and we decided to part ways with our first manufacturer rather than launch with something that was a compromised vision.
At that time, we went back to the drawing board, trying to find a New Zealand-based manufacturer that was ready and willing to do something new; that is how we found Seabreeze Apparel, in Auckland, and it was a blessing. Their open communication style, and great minds across their business got us back on track with our Twozees, creating the reversible garment we dreamed of.
The innovation: What was the biggest breakthrough for you with your business?
Talking to so many parents about their children's clothes and thinking about how we all wear our clothes, many of us find tags to be more than a nuisance. Many brands already exclude neck tags, printing sizes in there, but we wanted to go a step further, removing all tags, particularly those very annoying waist tags that are sewn into the left waist/hip area and replace them with meaningful substitutions to make life easier. To do that, we had to make all our garments reversible, so rethinking and challenging those traditional and the easiest/cheapest construction methods was our focus.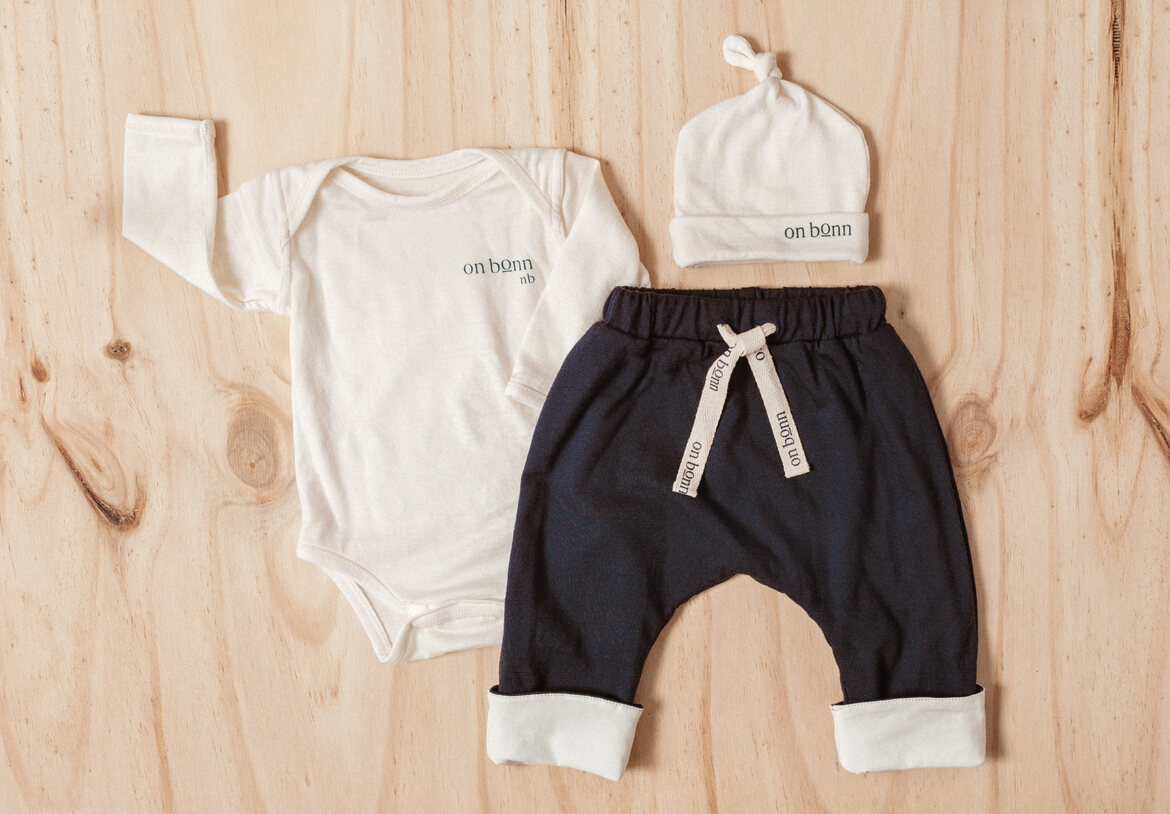 When we cut out the synthetic piece of fabric that is a clothes tag, that piece of plastic (that's what a tag usually is, plastic) ends up in a landfill. We thought there could be a more environmental and sustainable way to provide the critical information from a tag, without having to resort to plastic destined for a landfill. Without neck tags you lose the size of a garment, where it was made and the brand name. And without the waist/hip tag, you lose care instructions. We knew we could still provide that information, but in a fresh, sustainable, and more meaningful way.
First the sizing: when you lose the clothes tag, it makes passing down and passing along a garment a little trickier, because it's hard to tell the size by just looking at it. So, we decided to put the sizing information up front, never to be lost. You can see a discrete, wee number under our logo on the left-hand side of our clothes depicting the size of the garment.
With the sizing and brand information included on the front, we decided to develop a 'clothes tag on a bag'. All our garments are sold in their own organic cotton washbag, which includes where all our clothing is made, in New Zealand, and has all the composition, country of origin and care instructions printed on it, never to be lost, making passing down, and passing along so much easier. When you have a good quality baby garment, you keep it for the next child, allowing conscious parents to buy less and wear more. We want all our clothes and accessories to have the longest life possible.
We use only ethical fabrics like organic cotton and ZQ merino. ZQ merino is regeneratively farmed here in NZ, with the highest ethics, because happy sheep make the finest merino. ZQ merino is naturally odour resistant, meaning it can be worn more, and washed less too, which helps the garments last longer.
See next page for more…