Ayurveda Practitioner and founder of Zanti Ayurveda, Peta Crogan, has over 20 years' experience in the medical and health sciences. She has worked in medical research, fertility, wellness and nutrition before finding her true calling in Ayurveda. Using the most natural, organic products and sustainable practices Peta empowers people to live their best, healthiest lives possible. Here she talks about her Ayurveda journey and her passion for helping others.
The passion: What lead you to Ayurveda?
I studied pathology and oncobiology at uni but afterward found myself working in an environment filled with cancer-causing agents and DNA-denaturants. It frightened me. After finding a beautiful job in embryology and assisted reproduction, I realised I was passionate about natural health and avoiding nasty chemicals in my daily life. So, I began studying naturopathy, right at the same time as starting my family and moving away from the city. The timing was terrible and something had to give. Unfortunately, it was the study. 
After many years away from study, I returned to find my college had closed. So, I went to an open night at another naturopathy college where someone was giving a talk on Ayurveda. Immediately, I was hooked as I realised this beautiful science encompassed all my loves, from gems and crystals, through colour therapy, energetics, astrology, healthy living, pathology, gardening and herbology. There was never a question, when I started studying Ayurveda, that I wouldn't share this with the world. I have found my way of life in a career.
As I chatted with a friend recently, she commented that I have always been deeply connected to the earth. She reminded me that I painted a floral mural on the back fence and made a vegetable garden while renting a room at her place. In fact, I have made a vegetable garden at every place I've lived, tried to improve my surroundings – even if it is simply picking up rubbish in remote camps in the outback – and helped others with their health all my life. She then reminded me that even before I found Ayurveda, I gave her some advice to improve her husband's sperm count – and it worked. She fell pregnant soon after. Through this conversation, I realised that my lifestyle has always aligned with the guiding principles of Ayurveda. It is logical to me, it is my passion and it pours out of me at every opportunity.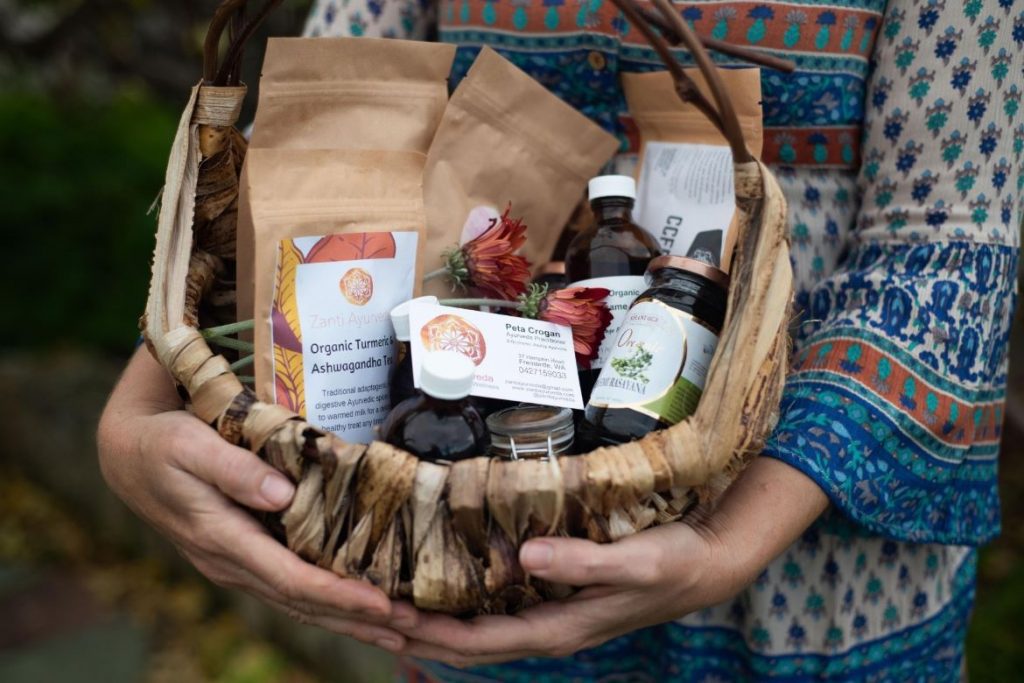 The launch: How did you start out in the beginning?
I began sharing Ayurveda by inviting friends and family to have an Ayurvedic massage. A few people would come to see me for health concerns, but most people really didn't understand what Ayurveda is or what I do. So, I began running workshops. The first was a free workshop called Ayurveda and You: Health Basics. This was very well received and gave me the inspiration to run community workshops when I moved to Fremantle and had to re-start my business in a second location. 
I still run my business from a studio clinic in my Fremantle home and community workshops for the local council. I am also now offering video/remote consultation and I'm really excited to now be launching in-home Ayurdoula post-partum support services to help new mammas fully melt into their new identity and best bond with their baby. 
The innovation: What was the biggest breakthrough for you with your business?
The biggest breakthroughs have happened when I tried to quit, walked away, or have simply taken my hands off from pushing the business. These moments help to remind me that Ayurveda chose me, and I will spend the rest of my life learning this beautiful science of longevity.
It is emotionally taxing, especially in the early years, looking after and worrying about other people's health. When I had struggles, or heartache, or illness and self-doubt, and the business took more than I could continue to give, I tried to quit. It happened three times that I tried to walk away, even getting to the point of submitting my resume for other jobs….and every time, the clients, customers, incredible healings and opportunities would flood in.
In May this year, my business was pretty much shut down due to Covid-19 lockdowns. I managed to get some time at my beautiful hometown, Kalbarri. This, in itself, was deeply healing. While spending time with my hubby, we watched a beautiful documentary called The Beach by Warwick Thornton. At one point, Warwick mentioned an old healer at his hometown who was an alcoholic and died from related illnesses. Despite his alcohol problem, he was a sought-after healer. The point landed beautifully for me that I don't have to have my business ducks all in a row, or all my issues completely sorted, nor be the perfect mother/wife/cleaner/housekeeper/supermodel (haha, that's a joke) to be able to help others, because I am a healer. I help people heal. That deep knowing has profoundly changed the clientele coming to me over the past two months and I am ecstatic to be able to step up, beyond the muddiness of self-doubt, to help people even better than before.
Yin and Yang: How do you balance work and family?
This has been a challenge over the past two years as my children and I have moved away from home for schooling purposes. You see, we come from a little seaside town of 1200 people and although lucky to have a district high school, there are limited options outside the core subjects. My children are artistic and musical. They applied, tested and effectively got themselves into great schools, so needed to move away from home. When it looked like we would have 3 children in 3 different towns, the decision was made to move to Fremantle for the duration of their high-school years. 
Meanwhile, my husband, who is a sustainable builder, has had more work in Kalbarri than ever before – so we've been kept apart much more than we'd like and he's not here to support me or the children in our endeavours.
See next page for more…