Nudie Rudie founder Jess Molloy is passionate about mums getting what they need in order to feel loved and supported during the biggest transition in their lives, through pregnancy and into motherhood. They are all about the real and raw moments that pregnancy and motherhood bring, and they want to support mums through it all. Their gorgeous gift boxes have been so carefully thought out and include all the things that mums and mums-to-be truly need – with a splash of indulgence thrown in too! Here, Jess talks to The Natural Parent Magazine about the inspiration behind her beautiful business, how she balances work and family life, and her hopes and dreams for the future.
The passion: What inspired you to set up your business
Have you ever been nap-trapped and have nothing else to do but contemplate life? That's kind of how this all started. I was holding Connor on our couch, secretly wishing he would sleep in his bassinet just once. That day we had just found out that one of my closest friends had fallen pregnant and I knew her love language was 'gifts'.
We really wanted to show our support and excitement somehow, but had no idea what to give her that wasn't cliché or unnecessary.
I started to brainstorm the things that I had found useful, or really wanted during my own pregnancy rather than the run of the mill flowers, nappies, etc.
As I was putting together the anti-nausea lollies, the stretch mark cream, and the much-needed chocolate, I found myself thinking – what if I could provide these gifts for more than just my mama mates?
It came down to 4 gift packs to provide nurture for:
Enduring pregnancy
Your hospital stay
The postpartum period
Newborn life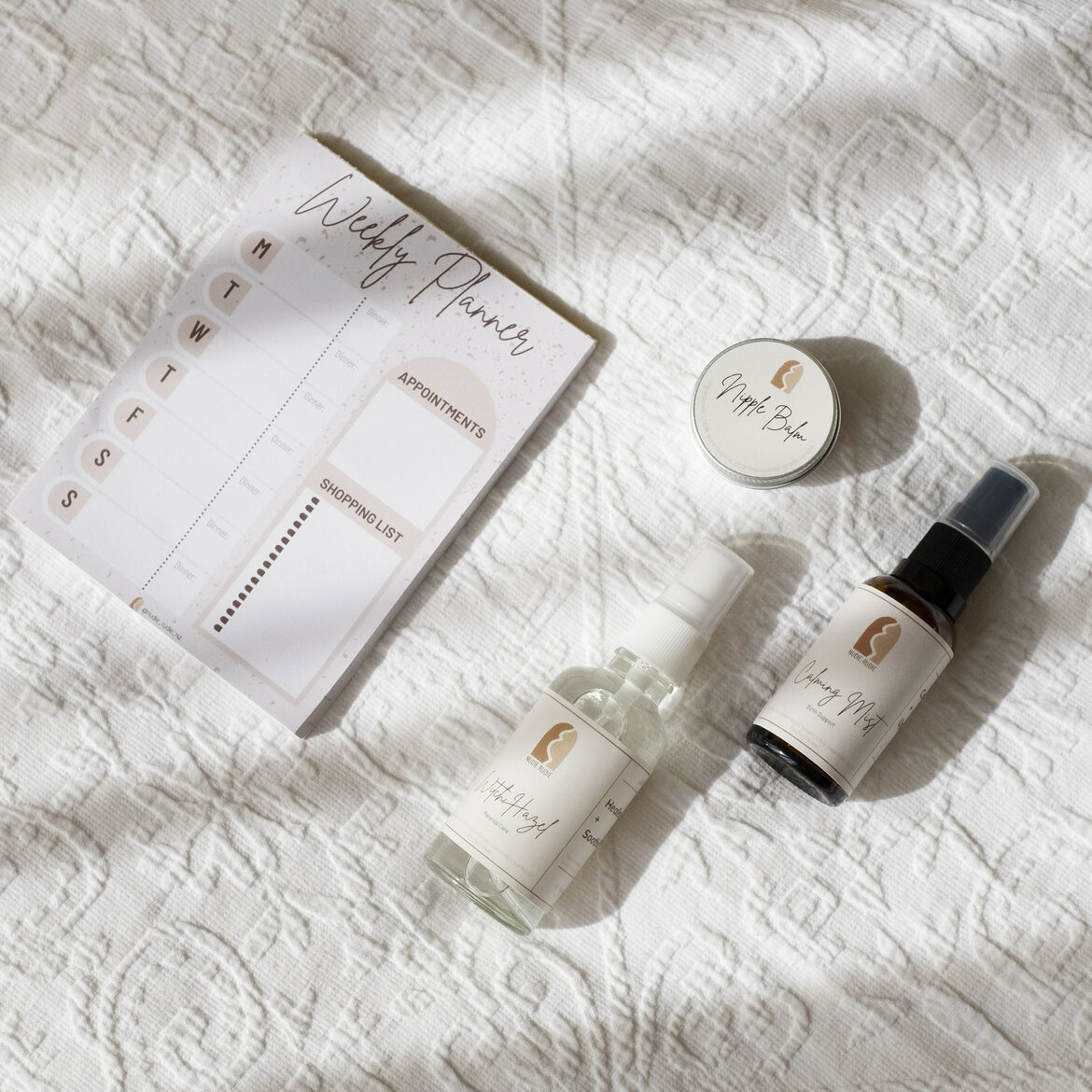 The launch: How did you start out in the beginning.
I wanted to support local, Kiwi and small businesses as much as possible and so this really was the driving force in a lot of the businesses that I emailed…and I emailed a lot! It may or may not have helped that I included a picture of my roly poly bub, but I was so surprised at the aroha and support out there for my idea!
"Hi Jess, sounds like such a lovely business idea – we would love to have you part of our stockist family!" – The Milk Collective
"It's a big market, people only want the right stuff they can trust – your concept sounds great! Would love to work with you." – Almighty drinks
"Exciting stuff for starting your own business! I would love to be a part of it." – The Confectionist
And then came the marketing – wow what a learning curve that was! The apps to plan content and edit photos, photographer shoots, back planning from the launch date, creating a hype and a following before the launch date – sheesh.
The Innovation: What was the biggest breakthrough for you with your business.
The box. The box. The box.
So, part of being a gift box company is that the giving and receiving of the box needed to be part of the experience.
I was not going to stop until I found the perfect one:
The size needed to be shippable,
The colour needed to be on brand,
It needed to feel lush and not tacky,
And it had to be magnetised
All without costing me my first born child.
I can probably also start my own business in gift box research too as I left no corner of Google unsearched.
I ended up finding a company and had to take the biggest plunge to make an order…wait for it…without a prototype!! (It would have cost me half a first born to get a prototype sent).
We have all had that moment where you hover over the 'purchase' button, hold your breath and click buy and feel a bit giddy.
It was SO totally worth it. Every man and their dog got a pic from me when the box arrived and it was more dreamy than I ever could have imagined!
See next page for more…