Tie dye is still funky, in our humble opinion! Can't you just see your little one rocking some of these awesome threads? Wild Mama Dyes specialises in hand-dyed natural fabrics, and creative expressions of humanity. Colourful tie dyed clothing and fabrics, unique toys and jewelry, designer fabrics, artistic design services, screen printing featuring baby wearing, breastfeeding and natural parenting themes. We spoke to Sandi Heilbronn from Wild Mama Dyes to find out more about her groovy little business. 
The passion: What inspired you to set up your business?
From the moment I realised I was pregnant with our first child I knew I would be staying at home with her, I was prepared to go without a lot to be a stay at home mum. But I also love going to Kmart so I thought I had better do…something, also at that time my partner was working as a volunteer so money was a deep worry.
I have always expressed myself creatively, and when I first discovered Procion Dyes I fell deeply in love with dyeing, the waiting, the reveal, the anticipation! It all started when I bought some dyes to fix some of my then two-year-old's stained clothing (Now that she is 8, she dyes a lot of her own clothing!). When I washed the dye out and held up something that looked brand new and so much more beautiful than when I first bought it I knew I had found my niche. And now it fits in so perfectly with our way of life that I cant imagine it any other way.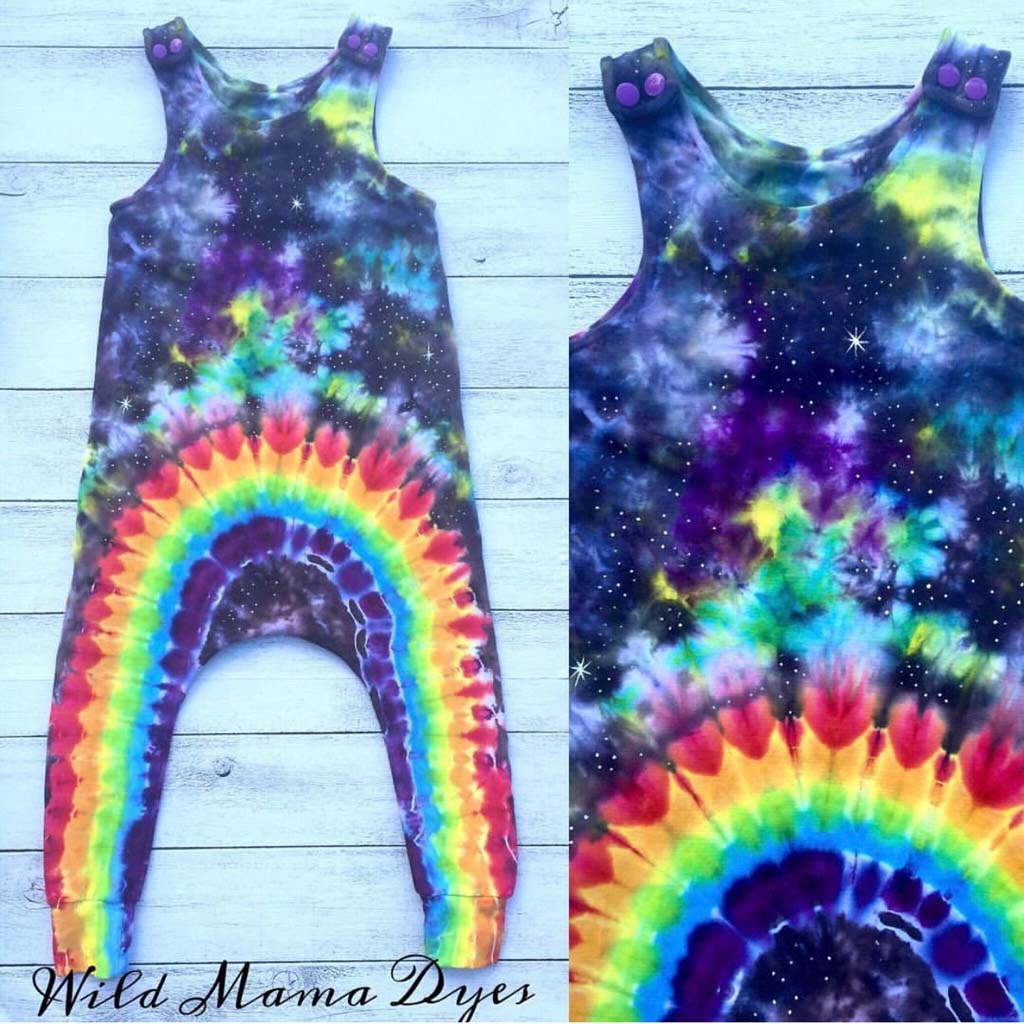 The Launch: How did you start out in the beginning?
I started out selling a few things on eBay, upcycled clothing, hand painted baby shoes and bodysuits, for so much less than they were worth – I would spend an hour painting and sell it for $12! I finally gave in to the fact that it was necessary to set up a Facebook business page, and as an anxious introvert who is incredibly uncomfortable with drawing any attention to herself, clicking that publish page button was so hard!
Of course for a very long time my 'likers' consisted of my mum and my partner, and a few friends. But I kept steeling myself and posting to them like they were my customer base, and slowly, so slowly I started selling to people I didn't know! Soon I realised the people I was selling to weren't even friends of friends, and then I posted my first package overseas and just about fainted. Now 50% of my weekly packages are sent internationally.
The innovation: What was the biggest breakthrough for you with your business?
Finding wholesale opportunities. Drowning out the expectations of what I "should" be doing and creating what I want to create. Settling into my own style and being able to focus on creating things that are unique and speak to me, and hopefully other people! I was asked by Ankalia (THE most amazing Australian made wrap company ever) to custom dye some some woven wraps, they are such a wonderful blank canvas to add some colour to and now I have the privilege of dyeing wraps that end up being a really special, unique and essential parenting tool.