LINK & Luna is the place to go for beautifully crafted, individually handwoven, one-of-a-kind African Bolga Baskets. Whether it's a Moses basket for your little babe, a Market basket to tote around with you, or a Planter basket to liven up your living space – LINK & Luna have got you covered. The baskets come from the talented artisans of Bolgatanga, a town in the Upper East Region of Ghana. We spoke to business founder Laura about how she got started – a story of life after loss.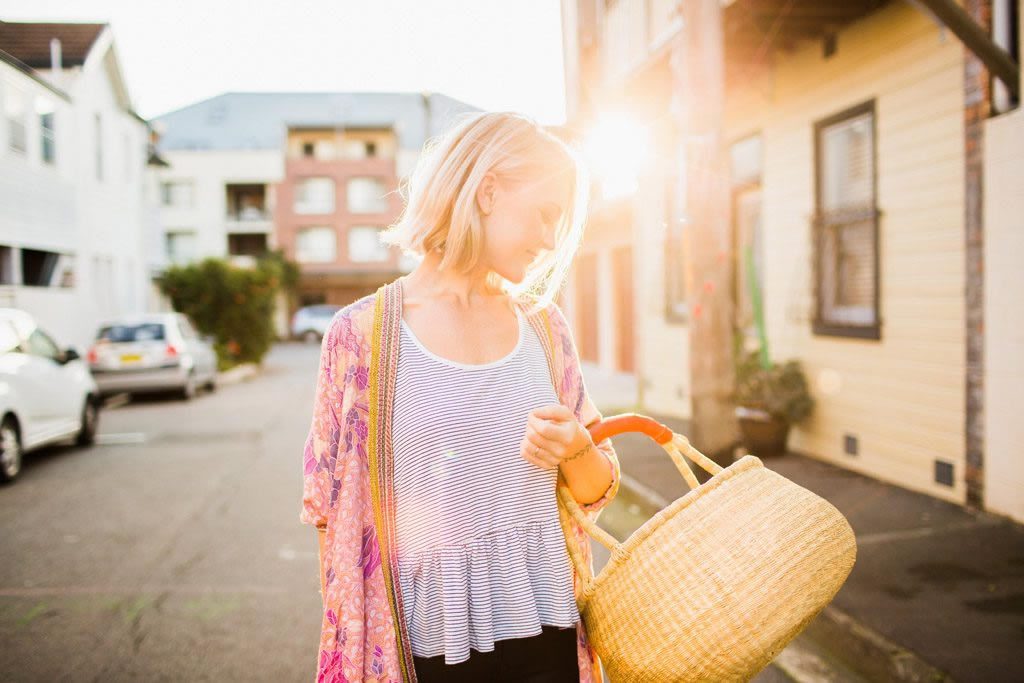 The passion: What inspired you to set up your business?
I was pregnant with my first child, my son Link, when I saw the beautiful Moses baskets on Instagram and Pinterest. At the time there was no one in Australia selling them so I would've had to get one from the US and the shipping was so expensive, and so was the product with the exchange rate. I really thought "this is it, this is what I could be doing", but at the time I was planning my wedding, renovating the house and you know, preparing for my baby so the idea just got pushed aside and forgotten about.
Sadly, at 35 weeks gestation on the full moon in November 2016, Link was stillborn. As you can imagine, our worlds were completely shattered and forever changed. The heartbreak was unbearable but after four months off, I needed to start to think realistically about what I was going to do with my life. I kept getting drawn back to the baskets and even though there were now a few Australian competitors already on the market, I thought, "I literally have nothing left to lose". So I just took the plunge, spent all our savings on baskets, whipped up a website and got cracking.
The Launch: How did you start out in the beginning?
Stressed, excited, pumped, totally anxious and riddled with nerves. It was just me and literally zero prior experience with building a website or using couriers or packing orders or bookkeeping. I come from a customer service background though, so I was determined to just do what I know really well and learn the rest. I'm SUPER determined by nature so I just spent long and late nights in the kitchen on my laptop just charging through my to do list doing whatever it took to get off the ground as quickly as possible. I made so many mistakes early on (and still do) but I never see those as failures, just lessons.
The innovation: What was the biggest breakthrough for you with your business?
I know this sounds silly and so minor, but I was SO fixated and STUCK when it came to my Instagram feed. All these pages with beautiful themes and fluidity! I just couldn't make it work. I believe that every photo opportunity has beautiful qualities and I didn't like the idea of being bound to one theme and not being able to post photos that I love, simply because it wouldn't suit the last one I had posted. But I also didn't want to be left behind. I decided on a checkers board theme in the end, to showcase both my products on white background, and my location shots, for example. It really helped get me in a groove once I found that formula but even now I'm still not 100% happy with it.
Yin and Yang: How do you balance work and family?
In the early days especially, this was really tough for me! I guess after losing Link and being home alone whilst my husband was at work, the only positive, passionate and motivating thing in my life at that time was my business, so it kind of became my new baby. My husband would come home from work and I'd still be glued to the computer, my stress levels would be high because I had so much to do and we'd barely say two words to each other. As soon as we finished dinner I'd be straight on my phone trying to engage with my Instagram audience and checking every single notification as it appeared on my phone. I cared a lot and I wanted so badly for it (and me) to be well received and I thought I was doing the right thing by spending every waking minute on my business, because that's what it takes to get ahead.
It took some pretty tough conversations with my husband to make me realise that I had gotten swept up in the expectation of it all and I had lost sight of what was really important and why I was really doing this. I realised that the more social media I exposed myself to, the more I compared myself to others and the more anxious and highly strung I had become. Sadly, my mental health and the connection between my husband and I suffered as a result. So, I switched off ALL notifications on Facebook, Messenger, Instagram and email, and now try to have set times allocated in my day to respond to emails and engage with audiences once I post. My husband now knows that 8pm is prime Instagram engagement time, so if he sees me on my phone at this time he knows I'm working and not just using it as a default tool to be lazy or disconnect. I work my butt off to finish my work before he gets home so I can dedicate that time to us instead of my business.