Natures Touch is an exclusive range of 100% natural mother and baby skincare products that are non-toxic and cruelty-free. Their products are inspired by nature – made from specially selected ingredients renowned for their powerful individual benefits. Midwife-designed and produced to support pregnancy, birth, baby and beyond, all handcrafted in New Zealand and all free from parabens, mineral oils, sulphates, artificial fragrances or preservatives. We spoke to business founder Clair Turner to find out more about her beautiful business.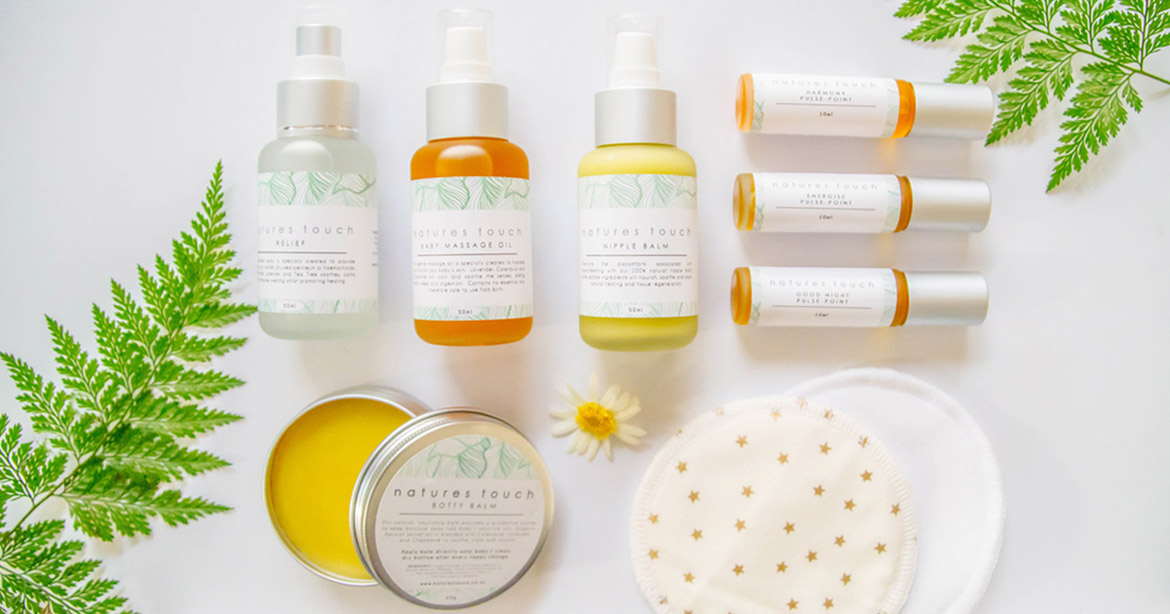 The passion: What inspired you to set up your business?
When I was pregnant and had my children I was very focused on finding natural products to use on our skin. Twenty years ago they certainly weren't easy to find. Sadly today it can still be a minefield finding a truly natural product that contains no chemicals, artificial fragrances or preservatives.
So often we hear that we are what we eat: a diet of natural and healthy wholesome foods keep our bodies fit and strong. I'd like to go one step further and say that we also need to be mindful of what we put on our bodies. Every cream, lotion or balm applied to our skin is absorbed by our skin (the largest organ of our body) and a percentage into our bloodstream.
Several years after my children were born I became a midwife and I would often be asked what would I recommend to use on babies' sensitive skin. My answer would be to use something that was kind and gentle, preferably using pure and natural ingredients.
More and more people are making the conscious decision to reduce their exposure to toxic chemicals found in many skincare products. None more so than pregnant mums and their babies.
As a midwife, my passion is always to support and empower women to make informed choices and to promote health and wellbeing for all. I know all too well the challenges that mothers face in the days and weeks before, during and after childbirth. I decided to create a range of practical, chemical- and cruelty-free products made from quality oils, organically sourced when possible. All designed to soothe, calm, nourish and protect, supporting mums-to-be on their journey through pregnancy, birth, baby and beyond.
The Launch: How did you start out in the beginning?
I worked closely with a dear friend of mine who is a qualified aromatherapist. For months we would discuss and formulate my product ideas. I knew from the beginning how I wanted my products to look. I wanted them to look professional with a clean and simple design using minimal sustainable packaging if possible. I then recruited people to trial the products for me and got their feedback. Meanwhile the website was being built and a marketing strategy put in place. There was no point having a great product that no one knew about.
The innovation: What was the biggest breakthrough for you with your business?
Having no previous background in business or marketing, my biggest breakthrough came with the support of my eldest daughter Emma. A talented graphic designer who listened (very patiently and sometimes not-so-patiently) to my ideas and frustrations on product image, packaging and marketing. I had a specific image in my head but didn't know how to achieve it. She guided me through processes that felt so alien; at times I felt totally overwhelmed. This media exposure has been the springboard I've needed to let people know all about Natures Touch.
See next page for more…